Southwest Florida's Most Reputable Commercial Locksmith
Gain control over your business's physical security with worry-free lock and leave solutions specific to your commercial property. "A" Locksmith is trusted to provide professional locksmithing and security services to hundreds of local businesses including retail stores, restaurants, luxury hotels, offices, medical facilities, public and private schools, and shopping centers. We work closely with area property managers and both residential and commercial construction companies.
We offer our commercial accounts favorable pricing structures, assigned point of contact, consistency of service, and the stability of a 50 year company with an excellent reputation. All our locksmiths are background checked and are highly trained.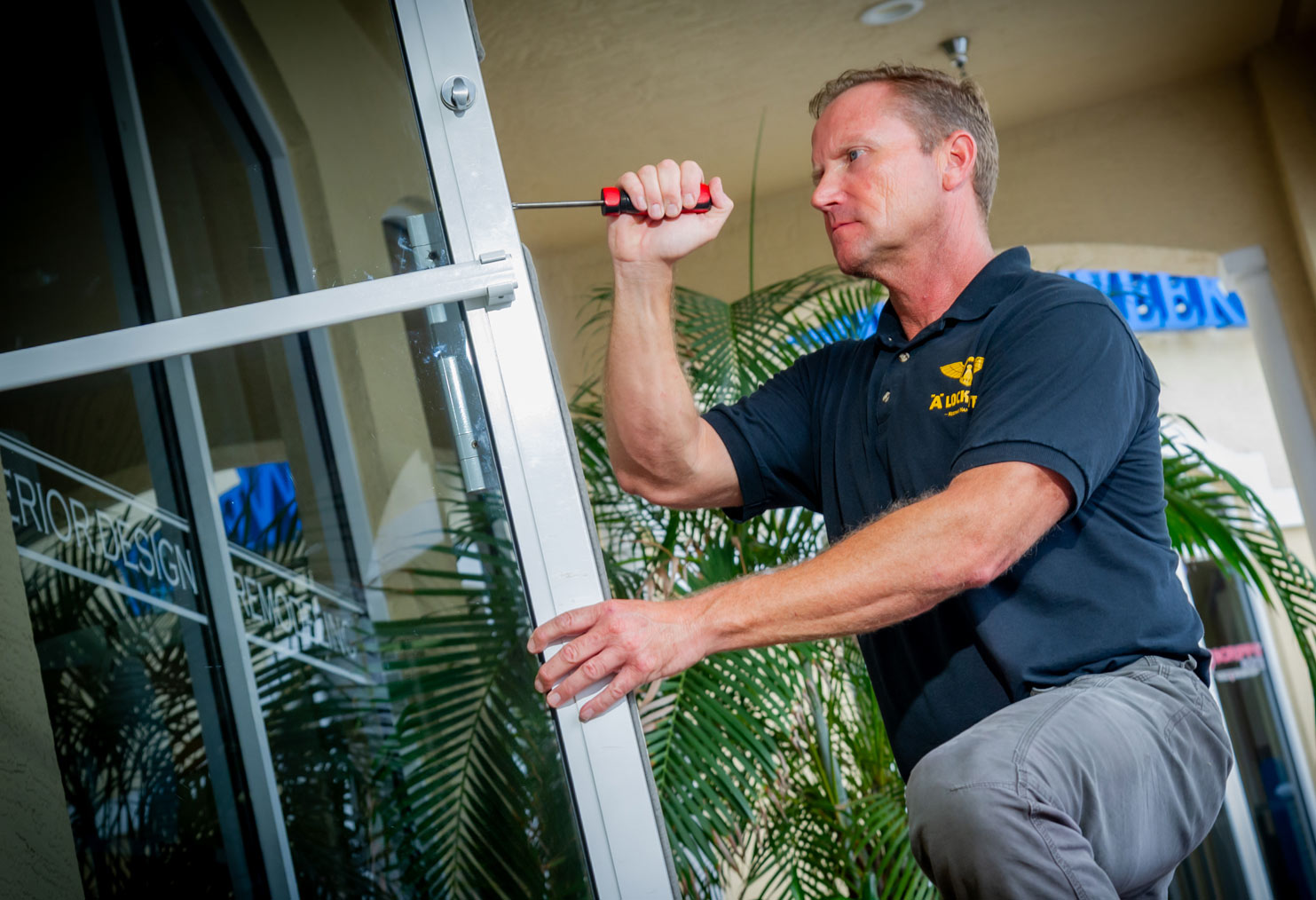 Request a Call Back

Enter your info below, and we'll get right back to you.
Rekey Locks
Whether your business fell victim to a burglary, one of your employees lost their keys, or you had to let your night-cleaning crew go, rekeying your business's locks is one of the most cost-effective ways to increase your security. 24 hr emergency service is available to all of our commercial customers.
High Security Locks
High security locks include characteristics to make the lock's defeat too time-consuming and too expensive to be feasible. Restrictive keyways, key duplication control, strong materials, and high manufacturing tolerances make high security locks resistant to destructive entry techniques. Master key systems can eliminate your need to carry many keys.
Gate Locks
We have working relationships with the area's most knowledgeable gate and fence contractors. Our team works with home owner's associations (for vehicle / pool access control), boat dock supervisors, beach access areas, and business owners to maximize the convenience and security of their gates while reducing liability concerns. Allow our gate lock experts to service your gate locks today.
Commercial Door Hardware
We can provide commercial quality high security locks and keys. We can establish a master key system for your business and can also supply, install, and repair different types of door hardware including door closers and exit and panic bar hardware.
Wireless Access Control
"A" Locksmith installs the latest in wireless electronic lock technology. These affordable, yet powerful locks can now be controlled using the touchscreen keypad, a key fob, a standard key, and your Android or iOs device. Locks can be controlled remotely or using a Bluetooth signal. User-friendly software allows you to set privileges for individual users and change them on the go. The Bluetooth lock is a great option for small businesses who don't want an expensive, complicated, wired lock system, but need the flexibility of an electronic lock access control system.
Safe Sales & Service
"A" Locksmith can recommend the right safe to protect your cash, inventory, hotel guest's valuables, or sensitive files. We can also change the combination of your safe. We can guide you to the safe that best meets your needs and your budget. We'll talk about the different types of locks, how to care for the safe, and where and how to best install your safe for maximum protection and convenience.
Panic Bars & Door Closers
"A" Locksmith can install and service panic bars, and emergency exit hardware for your doors and gates. We will find the right product to keep your business compliant with the latest regulations and codes.
File Cabinet Locks
Sensitive documents, valuable work supplies, and confidential data need to be secured, but also convenient to access. Our experienced locksmith team can install, service, or upgrade your file cabinet lock systems. We can also help if there is a cabinet you can't get into.
Safe Combination Changes
"A" Locksmith's expert team can help you open a locked safe and change the combination of your safe. Protect your assets by routinely changing your safe's combination.
Lock-out Eviction Services
If a tenant has been evicted or home has been foreclosed, "A" Locksmith can change the locks of your property to deter reentry.
Your Security is Our #1 Concern
Security is Our #1 Concern
Owned by a former police officer, "A" Locksmith provides background-checked technicians who arrive on-time, in-uniform, and in a marked vehicle for your safety.
Keeping Naples Safe for 50+ Years
Keeping Naples Safe for 50 Years
Our mission is simple, Keep Naples Safe. We've done that over the last 50 years by sharing the very best security advice, service, and products with each of our clients.
Licensed, Bonded, & Insured
Licensed, Bonded, & Insured
"A" Locksmith has been licensed, bonded, and insured for over 50 years. We uphold the highest standards of ethics and do what's right to protect our clients.
Proudly Serving Southwest Florida with
500+ FIVE-STAR REVIEWS